It's your parent's Anniversary and if you are thinking about organizing them a great party there are a few things to think about first...
Check that they are not already planning their own celebration, that would be a bit awkward if your dates clashed!
Work out if you want it to be a surprise or not.
Think about if your Mom and Dad would want to be involved in the planning
The number of guests
Your budget
And the date of the party
Knowing the answers to these questions first of all will really help you focus on the type of party you can put together.
Planning A Surprise Anniversary Party For Your Parents
If you would like your party to be a surprise for your Parents you will need to get their friends and your family together to help you as you will need them to keep your Mom and Dad busy and to be honest fairly clueless about what is going on.
You will also need to think about a few extras when it comes to surprise party planning...
Start by confirming the date which will probably be as close as you can get to your parents Anniversary. Please check that your Dad isn't planning on surprising your Mom with a luxury cruise on that weekend or a romantic getaway just the two of them. You can't have the party without them!

Next think about the venue and the number of guests at the same time. Quite often party planners will ask you the numbers first and then find you a venue to fit the number of guests but you may want to hold the party in your own back yard and that could limit the number of guests.
Check that your venue has space for the date you want and book the space. Obviously after checking with them for the costs.
Now it's time to send out the invitations and make sure that it is very obvious that it is a surprise party! Have the replies sent to you so you can keep track on who is coming.
When it comes to the day of the party it would be a good idea to get close friends of your Mom and Dad to pretend to take them out for a celebration lunch or dinner. That way your parents will be dressed to party!
And then when they walk in to the venue it will all be a big surprise.
Anniversary Party Planning For Your Parents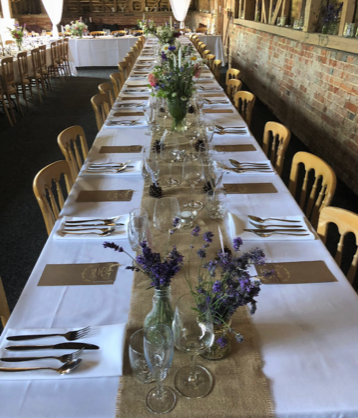 If your party is not a surprise then you will probably sit down and have a chat with your parents as to the type of party they would like. You may find that they don't want much fuss and if that's the case then a family dinner may be just what they want but you can still make it extra special for them.
Confirm the date that they would like to have their party on.
Next sit down with them and come up with the guest list and also the venue that they would like.
They may want their party back at their original Wedding Venue
In their own home or back yard
Or your home!
Their favorite restaurant or club could also be possibles.
Book the venue
Choose the menu
Think about the decorations and whether you want favors
~ if it's their Golden Anniversary (50 years) you may want to theme your decor to fit with the Gold theme.
~ if it's their Ruby Anniversary (40 years) the theme is Ruby
~ their Pearl Anniversary (30 years)
~ their Silver Anniversary (25 years)
Plan transport for your parents
Book any hotel accommodation that is needed
Let the venue know the confirmed numbers closer to the day.