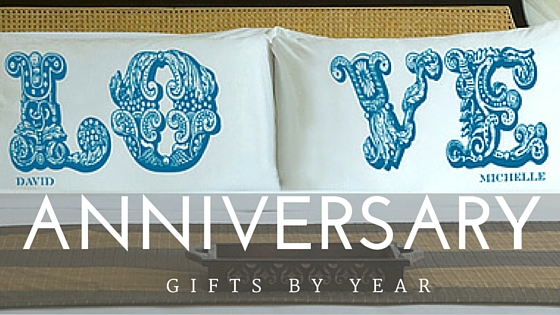 Since the Middle Ages couples have celebrated their Wedding Anniversary with symbols of their love and over the years these have developed into the Traditional, Modern, Gemstone and Flower lists.
Each gift has meaning behind it, showing you how much your love has grown over the years and how much you mean to each other. Plus it's a fun thing to do! When else are you going to put so much thought into your gift so that it fits with each Anniversary gift for each year that you know that they will love it and cherish it.
To help you out and so you know what gift to buy for your husband or wife we have put together a handy chart to refer to every year.
Anniversary Gifts By Year Chart
| | | | | |
| --- | --- | --- | --- | --- |
| Year | Traditional | Modern | Gemstone | Flowers |
| 1st | Paper | Clocks | Mother of Pearl | Pansy |
| 2nd | Cotton | China | Garnet | Cosmos |
| 3rd | Leather | Crystal / Glass | Moonstone | Fuschia |
| 4th | Linen / Silk | Appliances | Blue Topaz | Geranium |
| 5th | Wood | Silverware | Rose Quartz | Daisy |
| 6th | Iron | Wood | Amethyst | Calla Lilly |
| 7th | Wool or Copper | Desk Sets | Onyx | Jack in the Pulpit |
| 8th | Bronze | Linen | Tourmaline | Clematis |
| 9th | Pottery | Leather | Lapis Lazuli | Poppy |
| 10th | Tin / Aluminum | Diamonds | Diamonds | Daffodil |
| 11th | Steel | Fashion Jewelry | Turquoise | Morning Glory |
| 12th | Silk | Pearls | Jade | Peony |
| 13th | Lace | Textiles | Citrine | Hollyhock |
| 14th | Ivory | Gold | Opal | Dahlia |
| 15th | Crystal | Watches | Rhodolite | Rose |
| 16th | | Silver | Peridot | |
| 17th | | Furniture | Carnelian | |
| 18th | | Porcelain | Chrosprase | |
| 19th | | Bronze | Aquamarine | |
| 20th | China | Platinum | Emerald | Day Lilly |
| 21st | | Brass | Iolite | |
| 22nd | | Copper | Blue Zircon | |
| 23rd | | Silver Plate | Yellow Topaz | |
| 24th | | Musical Instruments | Tanzanite | |
| 25th | Silver | Silver | Tsavorite | Iris |
| 26th | | Pictures | | |
| 27th | | Sculptures | | |
| 28th | | Orchids | | |
| 29th | | Furniture | | |
| 30th | Pearl | Diamond | Pearl | Sweet Pea |
| 31st | | Timepiece | | |
| 32nd | | Cars | | |
| 33rd | | Amethyst | | |
| 34th | | Opal | | |
| 35th | Coral | Jade | Emerald | |
| 36th | | Bone China | | |
| 37th | | Alabaster | | |
| 38th | | Beryl | | |
| 39th | | Lace | | |
| 40th | Ruby | Ruby | Ruby | Nasturtium |
| 41st | | Land | | |
| 42nd | | Real Estate | | |
| 43rd | | Travel | | |
| 44th | | Groceries | | |
| 45th | Sapphire | Sapphire | Sapphire | |
| 46th | | Poetry | | |
| 47th | | Books | | |
| 48th | | Optical | | |
| 49th | | Luxuries | | |
| 50th | Gold | Gold | Gold | Violet |
| 51st | | Blue Sapphire | | |
| 52nd | | Ruby | | |
| 53rd | | | | |
| 54th | | | | |
| 55th | Emerald | Emerald | Alexandrite | |
| 56th | | | | |
| 57th | | | | |
| 58th | | | | |
| 59th | | | | |
| 60th | Yellow Diamond | Diamond | Diamond | |
| 65th | Diamond | Star Sapphire | | |
| 70th | Diamond | Diamond | | |
| 75th | Diamond | | | |
| 80th | Diamond | Oak | | |